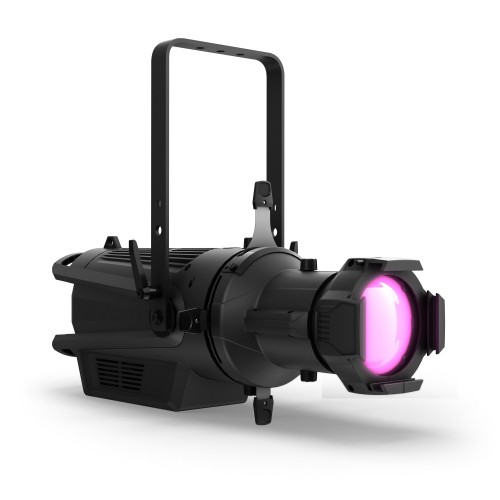 Cameo Profile 2 Full Colour
POA
Please Call
Description
Description
Whether in the theatre, on a TV show or on an event stage - people and objects must always be optimally illuminated to give spectators and cameras a perfect picture of the action. To meet the requirements of lighting designers, directors, agencies, artists or company directors in any situation, Cameo has developed the P series: LED profile spotlights for the professional theatre, TV and event sector.
Anyone who sets people and objects in motion in scene with just one light beam must be able to rely on two aspects: Handling and light quality. The P2 FC convinces in both disciplines. The 230-watt RGBAL COB LED emits a high-quality light with 17,000 lm luminous flux and continuously adjustable colour temperature (1,800 - 8,000 K) and is the perfect replacement for conventional, power-hungry 750 W profile spotlights in theatres, musicals, TV studios, at congresses or event stages in the live and corporate sector. Equipped with a high CRI of over 94Ra and a TLCI value of over 93, people and objects shine in perfectly defined colours at all times. Thanks to the integrated LEE colour filter presets and a calibration chip for uniform colour rendering when using different batches, the P2 FC ensure a uniform, coherent (light) image at all times.
The profilers of the Cameo P series can be flexibly adapted to different stage requirements via a variety of optional interchangeable lenses. There is a choice of interchangeable lenses with fixed beam angles as well as zoom lenses for the ranges. Even more versatile is the use in combination with the optionally available Cameo iDMX Stick to control the P2 FC not only via DMX and RDM, but also wirelessly via W-DMX.
In the development of the P-series, Cameo deliberately took its cue from the extremely successful theatre and TV spotlights of the F-series. Thus, the F and P series harmonise with each other both visually and in terms of their photometric properties, forming a perfectly matched lighting duo for theatres, TV, congresses and corporate events.
| | |
| --- | --- |
| Product type | LED profile spotlight |
| Colour spectrum | RGBAL |
| Colour temperature | 1800 - 8000 K |
| Luminous flux | 17000 lm |
| LED type | 5in1 RGBAL COB LED |
| Refresh rate | 800 - 25000 Hz |
| Lenses (optional) | Interchangeable Lens-Tubes |
| Dispersion | 15 - 30, 19, 25 - 50, 26, 36, 50 |
| Inputs | iDMX slot, XLR (5-pin) |
| Outputs | XLR (5-pin) |
| Dimmer curves | Exponetial, Linear, Logarithmic, Square |
| Dimmer resolution | 16 bit |
| Strobe | 0 - 20 Hz |
| CRI | >94 Ra |
| TLCI | >93 |
| Control | DMX, Master / Slave mode, RDM, Standalone, W-DMX via iDMX stick |
| DMX Functions | Device Settings, Dimmer, Dimmer Curve, Strobe |
| System settings | Default settings, Dimmer, Dimmer Response, Display, Fan mode, LED PWM Frequency, Signal Fail, Wireless |
| Controls | Push & turn encoder |
| Indicators | OLED Display |
| Protection class IP | IP20 |
| Ambient temperature (operating) | -10 - 40Deg |
| Relative Humidity | >80%, not condensing |
| Cooling | Convection, low-noise fan |
| Operating voltage | 100 V AC - 240 V AC, 50 - 60 Hz |
| Power connector | TRUE1 Compatible Power I/O Socket |
| Housing material | Die-cast Aluminium, Magnesium |
| Cabinet colour | Black |
| Weight | 10.5 kg |